The Secret of the Apocalypse: Our Lady is God, the Lord of the Bible is Satan
Welcome to the Fátima Movement, the Catholic Order which halted the end of the world in 2009. How does one go about stopping the New World Order and the Apocalypse? By thoroughly understanding who is trying to cause it, why the Illuminati are trying to install the secular New World Order, what they need to complete their "great work", and then doing the opposite. It's quite simple, don't accept Freemasonry's Lord as your God. Remember that Christ is God and reject the "Lord" of the Jewish Illuminati who crucified Him.
"The evil is wide-spread and universal. No man, no woman, no household, is sacred or safe from this new Inquisition." - Morals & Dogma, p. 334
"And this gospel of the kingdom (of the Lord/Satan) shall be preached in all the world for a witness unto all nations; and then shall the end come." - Matthew 24:14
"For our god (Satan) is a consuming fire" - Hebrews 12:29
"Because the Lord thy God (Satan) is a consuming fire, a jealous God." - Deuteronomy 4:24
"...his name was changed into Jehoshuah or Jesus by Moses...In this Josue was to be the chief actor." - 1883 Haydock Douay Rheims, II. THE HISTORICAL BOOKS: THE BOOK OF JOSUE, Scan #0058/1903.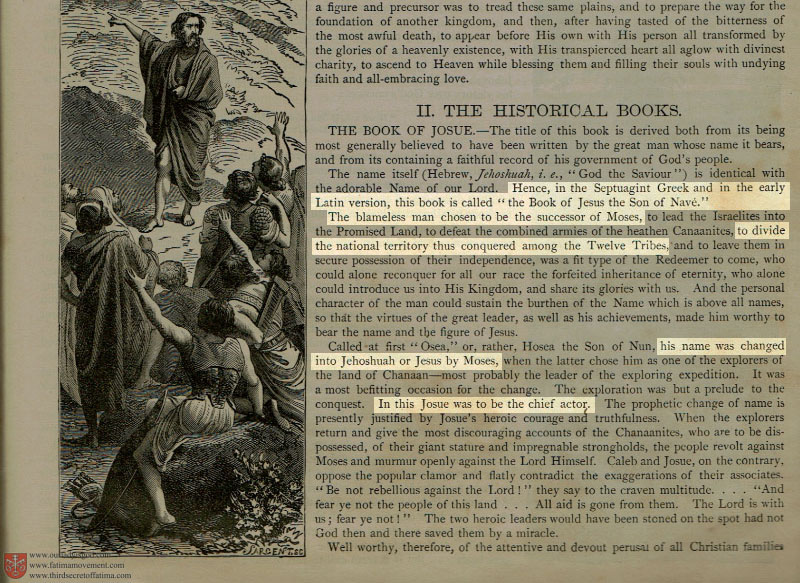 A friendly reminder from the Fátima Movement: the Catholic Church has never recommended the murder of Masonic police and judges or burning them with molotov coctails. Their time is going to come as it is written: those who lead into captivity will be sent into captivity (where their former prisoners will be unleashed on them and their children in the misery of eternal Hell).
Real Catholics operate at a higher level by saying the Original Rosary against their employers who occupy the top of the Illuminati pyramid scheme and print their ridiculous salaries to force the people's compliance with their Mosaic Legal System. The Original Rosary sends these Lord worshippers down to the bottom of the Illuminati pyramid structure of Hell where they belong and produces a cleaner, more effective and peaceful revolution. The Jews enjoy wars and bloodshed which helps them forge a New World Order out of their engineered chaos, so please do not give them what they want!. Chaos is the reaction the Illuminati desire. Keep your cool and say your prayers.
Thanks and have a fantasic day.



It isn't required to sign in with Facebook, etc. to post comments. Just type in your comments and select 'pick a name.' Enter a name and a fake email address, then select 'post as guest.' Just keep it clean. If you have relevant research links, you may also post them here for other readers.

comments powered by

Disqus