FÁTIMA MOVEMENT NOVUS ORDO WATCH ARCHIVES (Jan-Mar 2013)

HOW THE MASONIC "LORD" AND HIS LEGIONS ARE DECEIVING ALL NATIONS:
News Archives: (most recent)(Apr.-Aug. 2013) (Jan.-Mar. 2013)(2010-2012)
email your interesting news links to: fatimamovement@yahoo.com

"Actually I am that sort of girl, to look at. I'm good at games....Hours and hours I've spent pasting their bloody rot all over London. I always carry one end of a banner in the processions. I always Iook cheerful and I never shirk anything. Always yell with the crowd, that's what I say. It's the only way to be safe." - George Orwell's 1984, page 69
The Third World War is to be played out by stirring up hatred of the Muslim world for the purposes of playing the Islamic world and the political Zionists off against one another. Whilst this is going on, the remaining nations would be forced to fight themselves into a state of mental, physical, spiritual and economic exhaustion." - Albert Pike, Synagogue of Satan, page 54-55
Our Lady at Fatima, 1917: "If they listen to my requests, Russia will be converted and there will be peace."
3/30/2013: Jew in a box exhibition in Germany sparks intrigue
Background: The Telegragh: Hitler 'had Jewish and African roots', DNA tests show
Rense.com: In 1976, the plan for "Jewish world domination" outlined in The Protocols of the Elders of Zion had been largely realized. Harold Wallace Rosenthal, 29, a personal assistant to New York Senator Jacob Javits felt that Jewish power was so unassailable that he could make some extra cash by telling this story to Walter White Jr., the editor of the Conservative monthly Western Front.
"Too many Jews do not have the guts to tell you how we live and plan, but I am not intimated by anything or anyone," Rosenthal told White.
"It is too late for your Christian followers to put up a defence. That time is long past. Long, long ago we had to become the aggressors! That is undoubtedly one of our great purposes in life. We are aggressors!"

3/29/2013: Anti-Pope Francis washes and kisses the feet of minors to re-enact the deception of the Jewish Jesus. '
Fatima Movement advice: if any bible-pushing Vatican II Masonic Jesuits or Jehovah's Witnesses offer to wash your feet the way the Masonic Jesus did, go ahead and encourage them to do so. Then, try to have them take out your garbage, clean your bathroom, and vacuum. After they leave, pray the Rosary 150.
2/22/2013: PERVERTED JEWISH ANTI-POPE''S RESIGNATION LINKED TO GAY CONCLAVE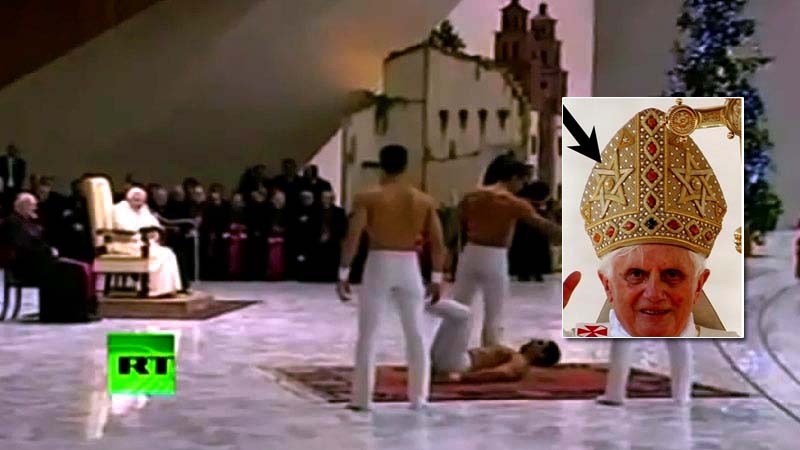 The Associated Press
Published Monday, Feb. 11, 2013 6:49AM EST
Last Updated Monday, Feb. 11, 2013 11:08AM EST
Here is the complete text of Pope Benedict XVI's surprise announcement of his resignation, as published on the Vatican Radio website.
Dear Brothers,
I have convoked you to this Consistory, not only for the three canonizations, but also to communicate to you a decision of great importance for the life of the Church. After having repeatedly examined my conscience before "God", I have come to the certainty that my strengths, due to an advanced age, are no longer suited to an adequate exercise of the Petrine ministry. I am well aware that this ministry, due to its essential spiritual nature, must be carried out not only with words and deeds, but no less with prayer and suffering. However, in today's world, subject to so many rapid changes and shaken by questions of deep relevance for the life of faith, in order to govern the bark of Saint Peter and proclaim the Gospel, both strength of mind and body are necessary, strength which in the last few months, has deteriorated in me to the extent that I have had to recognize my incapacity to adequately fulfill the ministry entrusted to me. For this reason, and well aware of the seriousness of this act, with full freedom I declare that I renounce the ministry of Bishop of Rome, Successor of Saint Peter, entrusted to me by the Cardinals on 19 April 2005, in such a way, that as from 28 February 2013, at 20:00 hours, the See of Rome, the See of Saint Peter, will be vacant and a Conclave to elect the new Supreme Pontiff will have to be convoked by those whose competence it is.
Dear Brothers, I thank you most sincerely for all the love and work with which you have supported me in my ministry and I ask pardon for all my defects. And now, let us entrust the Holy Church to the care of Our Supreme Pastor, Our Lord Jesus Christ, and implore his holy "Mother Mary", so that she may assist the Cardinal Fathers with her maternal solicitude, in electing a new Supreme Pontiff. With regard to myself, I wish to also devotedly serve the Holy Church of God in the future through a life dedicated to prayer.
From the Vatican, 10 February 2013
BENEDICTUS PP XVI
2/14/2013: KNIGHTS OF MALTA FREEMASON CALLS JEWISH FREEMASON BENEDICT XVI "A GODLY MAN"
2/4/2013: Yahoo! News asks readers if Beyonce flashed an Illuminati Hand sign. At least she's a little classier than the star of last year's Illuminati SuperBowl XLVI Sunday Black Mass.
Beyonce's Luciferian husband, Jay-Z works on "Lucifer son of the morning" (left). The "son of the morning" is a reference to the messiah of biblical Protestants, the Jewish Jesus of the Apocalypse, referenced in Isaiah 14:12.
Apocalypse 22:16: "I, Jesus, have sent my angel to testify to you these things concerning the churches. I am the root and offspring of David, the bright and morning star."
Isaiah 14:12: How art thou fallen from heaven, O Lucifer, son of the morning! how art thou cut down to the ground, which didst weaken the nations!
Was the Connecticut Massacre all an act? Something is not right in the news clip of this 'victim's' father...NRA Groups are gearing up for restrictive gun laws as a result of this. Either way, pray the 150 Rosary. The Sheriff of this Connecticut is threatening to arrest any independent journalists who look into these discrepencies, so we'll just leave it at that.